on June 12, 2004 by Staff in Latest, Comments Off on Welcome to Joe Behm for Golden City Council
Welcome to Joe Behm for Golden City Council
Welcome to the on-line home of the campaign to elect Joe Behm to the Golden City Council.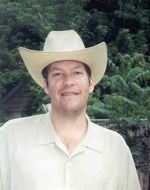 Joe Behm is running for City Council–Ward 2. The election is April 25 and he needs your support and most importantly, your vote. The polling place is Fire Station #4 on Heritage Road (right before the turn for Apex Open Space Park).
Who is Joe Behm? Joe moved to Golden in 1994 following a career with the Town of Frisco in Summit County. He served the town for four years as the Chief of Marketing and Recreation. Prior to that, Joe worked in over 25 rural communities in Colorado establishing recreation and tourism programs, of which, many live on today. He is currently employed by Fortune Valley Hotel and Casino in Central City and is responsible for Marketing and Community Affairs.
Joe serves the City of Golden as a Board Member on the Economic Development Commission and as Vice-Chairman of the Urban Renewal Authority.
Married to Kelly Rennels Behm, they are owned by Kaiser the miniature Schnauzer. In his spare time, Joe enjoys Golden's festivals, walks and hikes on Golden's pathways and in nearby open space and cooking for his family.
Why Joe for Ward 2? It's not just about the two or three issues you read about. It's about experience. Electing someone who has worked with communities throughout Colorado for the past 20 years is so important to you and your family. Golden deserves someone who can make a difference and will fight to keep Golden Golden.

Joe has a proven track record of working with divergent interests, forging collaboration and achieving mutually agreed upon goals. Joe's experience has helped the City of Golden clean up a decades-old environmental site right in the middle of downtown along with assisting with the creation of dozens of new jobs, the transformation of vacant commercial property into viable retail and office space and the building of numerous housing alternatives. Count on Joe to fight the supertower and keep your family safe from health risks.
Serving on the Technical Advisory Team for the Gaming Area EIS (Environmental Impact Statement) for the State of Colorado and via his work with the Central City Parkway, Joe fought the state bureaucrats and delivered a sensible alternative. You can count on Joe to use his experience to fight the beltway and work towards a Golden alternative. He's the only candidate with the skills to protect and preserve Golden.
Joe understands Golden's economy. Appointed by the Governor of Colorado to represent the State on the Colorado Travel and Tourism Authority in the 1990's, Joe knows economic development. He does not want your property taxes to go up or your community services to be cut. He has worked for a town in Colorado as an employee and will use his experience to ensure the City makes the right decisions. He will work hard to ensure you and your family has a Golden future. Ask the residents of the dozens of communities throughout Colorado Joe worked for from 1984-1988 and they will agree, he makes things happen. From public works projects to parks and recreation, Joe has made a difference.
This is just a sampling of the experience you can rely upon Joe to use to achieve your goals for the City of Golden. It's time to put Joe's experience to work for you. Don't trust Golden's future to just anybody, put your trust in someone who will listen to your concerns and take action.
This is an important election, your vote counts. Joe wants to hear from you and you can reach Joe directly at 303-279-1529!
Joe is the only candidate with the experience to fight the beltway.
Joe is the only candidate who works to improve your downtown.
Joe is the only candidate who has a consistent record of parks, recreation and open space investment.
Joe will listen to you and your concerns.
Joe and his family love Golden, just like you do. Check back often for updates and information. And, if you are going to be out-of-town for the April 25th election or can't make it to the polling place at the fire station, call the City Clerk or stop by City Hall to request an absentee ballot.